A flood can cause catastrophic damage and destruction in your home. It can happen anywhere but homes near oceans, lakes, rivers, and streams are more at risk. While you have no control over nature, you can protect your property to avoid or minimize the risk of a flooded house.
Flood-Proofing a House
Water damage can destroy your furnishings and cause structural issues, not to mention financial hardship. However, there are measures that can limit the potential for damage. Consider the following if you're in a flood zone:
Elevate Electrical Components: Know the typical and predicted flood levels for your area and raise wiring, switches, sockets, and other electrical components at least a foot above that. Water and electricity don't mix so you can prevent shock, electrocution, and explosions.
Secure Any Fuel Tanks: Anchor any fuel tank you store in your basement; if you have a propane tank, shut it off and unplug devices and appliances. If the tank isn't secured, water can easily move it. The tank could rupture or the supply line can break, causing a messy and dangerous spill.
Make Your Basement Waterproof: Check for cracks and holes ahead of time and seal any openings you find. Apply a waterproof coating or add a waterproof lining if possible. Also, install a sump pump with battery backup, it will remove water even during a power failure.
Move Important Items: Move furniture, valuable items, and important documents to a higher floor when a flood alert is issued. Documents like insurance policies and birth certificates should be stored in a waterproof box.
Secure Lose Items: Trash cans, lawn furniture, and other items that aren't secured can be easily swept away by fast-flowing water. Secure them or move these items higher up and/or into protected parts of your home.
Clean Gutters/Downspouts: If leaves and debris are blocking them, water cannot drain. Clear gutters and downspouts so they can divert water away, preventing it from accumulating around your basement and causing a flooded house.
Modify Your Home: Elevating your entire home may not be feasible. But you can modify your basement or lowest floor to allow flood waters to pass through. Openings in the foundation can be created to let water enter and exit while maintaining structural integrity. Water-resistant materials such as terrazzo tile or non-paper-faced gypsum board can help protect furnishings.
Place Sandbags Around Exposed Entryways: Sandbagging around basement windows or garage doors can keep water out. Effective techniques include building a wall of sandbags or arranging them in a pyramid. Traditional sandbags are made of burlap and sand. However, self-inflating barriers and other newer products can work, and they're easier to store and position.
Do You Live in a Flood Zone?
The Federal Emergency Management Agency (FEMA) has set up flood zones to determine the risk to homes and communities. These can be identified on flood maps. High-risk zones are labeled A or V. Moderate to low-risk areas are labeled B, C, or X. If the risk level is unknown or the area hasn't been fully analyzed, it is labeled D. Your mortgage lender will require flood insurance if you live in a high-risk area.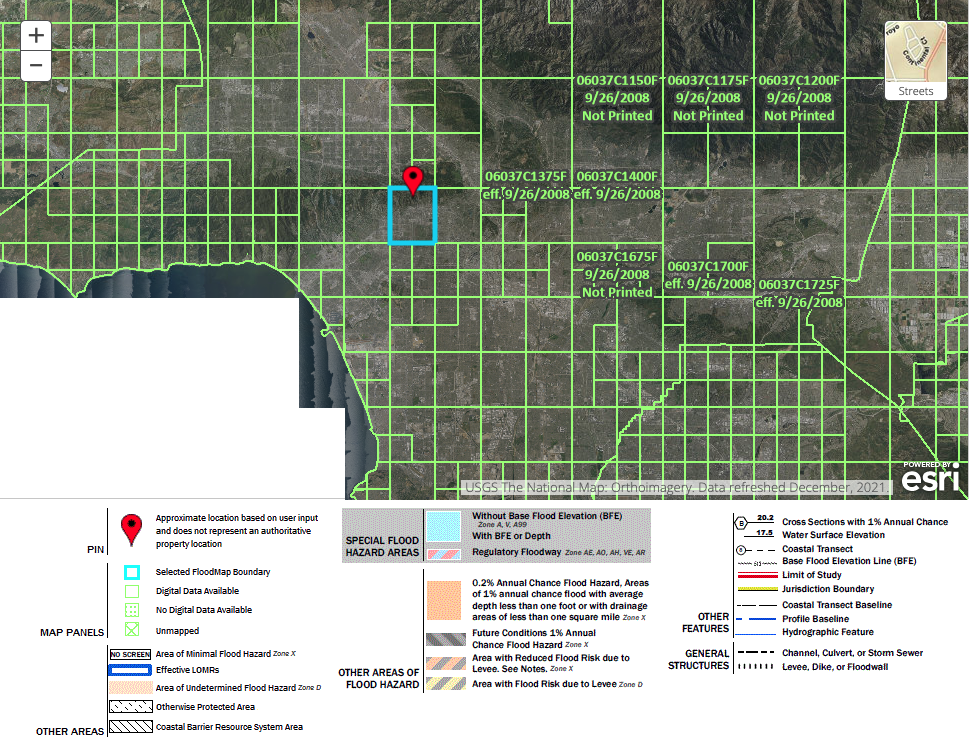 Be Prepared to Act If a Flood Occurs
Extreme weather events are becoming more common, and it may not always be possible to completely prevent a flood. But you can take steps to reduce the risk of major damage or injury. If a flood is imminent:
Turn off the electricity at the main breaker.
Shut off the main valves for water and gas.
Stock supplies like canned food, water, and flashlights.
Create an evacuation plan, an escape route, and backup routes.
Prep your home/family as soon as a flood alert is issued.
If the situation is extreme, evacuate and get your family to higher ground, and have your emergency kit ready. It should have at least three days' worth of water and food plus medications, cellphone chargers, and other essential supplies.
When Flood Damage Occurs, Contact Restorerz
A leading emergency services company in Los Angeles, we provide complete flood damage cleanup that includes water extraction, salvaging your belongings, structural drying, and debris removal. We even help with your insurance claim. Acting quickly helps prevent hazards such as mold, structural failures, and exposure to contaminated floodwater. If you have a flooded house, request service online or call 323-826-5977.