#1 Water Damage Restoration in Glendale, CA
We're Available 24/7 to Address Plumbing and Flooding Emergencies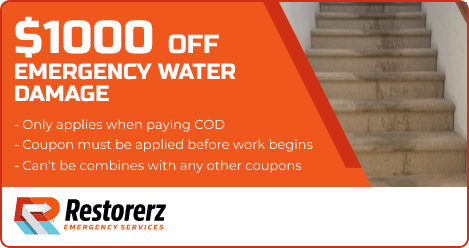 Water is a daily necessity. But it will do extensive damage to furnishings, valuables, flooring, and building materials if in the wrong places. The effects can be devastating, from ruined carpets to wood rot, mold, and bacteria. Water can also damage walls, air conditioning systems, and even the structural integrity of your home or office. But Restorerz - Emergency Services is available in Glendale, CA, and surrounding areas to mitigate the damage, make repairs, and fully restore your property.
Restorerz - Emergency Services is a highly reputable water damage restoration company in Southern California. We are certified by the Institute of Inspection Cleaning and Restoration (IICRC). As soon as they arrive in your Glendale home, our professionals determine the full extent of the damage and coordinate the restoration and cleanup process. They're equipped with the tools and equipment needed to make your property inhabitable again and comply with all relevant health and building codes. We'll also ensure the environment inside and outside your home or business is safe.
Contact Us
"*" indicates required fields
IN THE MEANTIME: BEFORE OUR WATER DAMAGE RESTORATION CREW ARRIVES
Glendale home and property owners must use urgency before it leads to bigger issues, such as mold and bacteria due to the flooding water staying longer inside the property. Additionally, water can damage the walls, the wooden floors, the heating, and air conditioning system; it can ruin carpets, and furniture. Professional equipment is required to pump and empty the water from your residence.
Unsanitary water, burst pipes, the washing machine, or natural events and disasters such as excessive rainfall contribute to water finding its way into your residence and flooding the interior, causing major damage. The longer it stays untreated, the bigger the damage and after-effects such as mold, bacteria, health hazards, diseases, and of course, the destruction of personal items.
The first thing you should do is contact our professional water damage repair and restoration team at Restorerz - Emergency Services to arrive at your place and start the recovery, clean up process, and start restoring things as soon as possible. But there are important steps you can take while a professional restoration crew is heading your way.
WATER DAMAGE SAFETY PRECAUTIONS
We Begin Water Damage Restoration in 60 Minutes or Less
When water enters your home, it won't wait to spread and cause extensive damage. The situation is urgent. Whether the cause is a rainstorm, broken washing machine, wastewater backup, or a burst pipe, contact our water damage repair and restoration team right away. And follow all safety precautions, starting with identifying and avoiding any sources of electricity exposed to water. Also, avoid slippery surfaces to prevent injuries.
Our team arrives with the equipment needed to dry things out, but you can get the process started before we get there. If it's safe to do so, open doors to let out excess water and open windows to improve ventilation. Turn on any fans to speed up evaporation. You can also use mops, towels, and other absorbent materials to soak up water or, if possible, push it out. Try to dry wooden items and move smaller valuables onto tables and high shelves.
To protect unaffected parts of your home, block water from reaching them with waterproof, water-resistant materials. These can be effective barriers. Soaked clothing and rugs should be hung in a dry place if possible. But when you call Restorerz - Emergency Services, it won't be long before an emergency crew arrives and begins the recovery process.
RESTORERZ - EMERGENCY SERVICES TO THE RESCUE: AS OUR TEAM ARRIVES
As our certified team of experts arrives, we will evaluate the type and the size of the damage and start the removal of water using the latest, most effective tools and techniques, therefore speeding up the process while handling everything with the care and attention required after such disastrous events. With large, industrial fans to wet and dry vacuums, powerful pumps, and other state-of-the-art machinery, we dry the interior and the carpets. Carpeting, pads, and items soaked and damaged by water will be removed quickly to prevent and reduce the damage to deeper surfaces and other items inside the property.
Additionally, we will remove and distance the furniture and other personal items from the house and affected areas. Books, lamps, home décor, artwork, frames, photos, gadgets, and home electronics and more will be removed and stored in a safe and dry place.
Do you need the assistance of our water damage restoration team in Glendale? We're always just a call away. You can trust our team to work quickly and efficiently to properly assess, mitigate, and resolve any water damage that has occurred or is currently occurring in your home or business.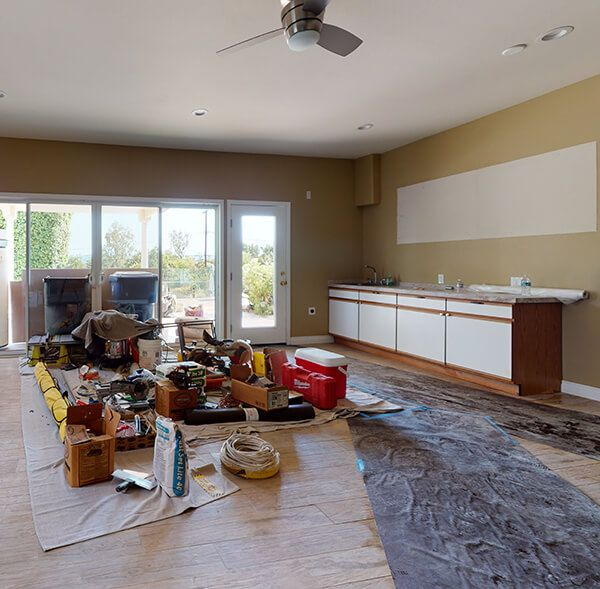 OUR Glendale WATER DAMAGE RESTORATION PROCESS
As our certified team identifies the source of the water damage, we immediately begin planning for a prompt and constructive resolution. We have seen a wide variety of these cases and have the confidence to approach each unique and challenging case with all the experience we bring to the job. The restoration begins.
Our specialists will pinpoint the source and the type of water damage and perform a complete moisture detection process utilizing the latest equipment. As we assess the damage, we give you suggestions on how we can address the specific case and get to work.
Then, our team will start to collect your belongings and everything that can and should be saved, and move them out of the wet areas. If necessary, we will pack out and store your contents in our climate-controlled, secure facility. Then, we'll start drying of the affected areas. The source and the type of water damage will be identified and fixed by our expert Restorerz - Emergency Services team.
Using moisture-detection tools such as a Thermo-Hygrometer, our Restorerz - Emergency Services water damage repair crew will clean and dry the flooded areas quickly and efficiently in order to save your belongings and other parts of the property from further damage and to start repairing and restoring the areas damaged by water.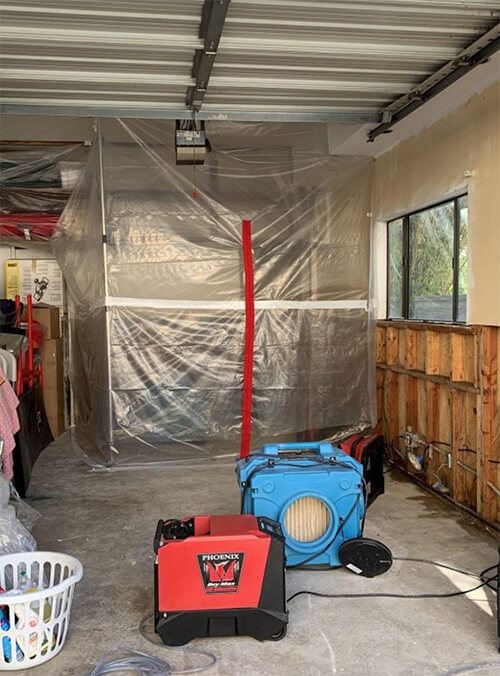 Dehumidification and ventilation begin to prevent and reverse the growth of mold, hazardous bacteria, and additional water damage. Once the damaged areas have been dried, properly ventilated and cleaned, our experts will start another inspection process to make sure every necessary step was taken to restore and return your home back to a safe and inhabitable space.
This crucial and most important step, the restoration process is where our Restorerz - Emergency Services crew takes care of everything: replacing the drywall, the insulation, installing panels and walls, and more, to fix and rehabilitate a property damaged by water. From flooding and natural events to old and bursting pipes, overflowing toilet tanks, a broken dishwasher, or unclean, unsanitary water, the certified and capable team at Restorerz - Emergency Services is ready to get to work and do it correctly.
Our Water Damage Restoration Process
Within 60 minutes of your call, our team arrives to assess the size, scope, and nature of the damage. They'll set up industrial fans, powerful pumps, wet/dry vacuums, and other advanced machinery to remove the excess water and dry your property. Items that can be moved will be so we can access deeper surfaces to minimize the damage.
Not all water-affected areas are immediately obvious. The moisture detection equipment we use, including thermo-hygrometers, helps us locate hidden water damage and dampness. It may be behind a wall, bookcase, or couch. Our process allows us to perform the most thorough water damage restoration possible. We'll also move valuable paintings, photos, books, decor, gadgets, and electronics to a safe, dry place.
If necessary, we'll pack out the salvageable contents of your home and keep them in our secure, climate-controlled facility. We'll dry and clean all affected areas and use dehumidification and ventilation to eliminate any remaining moisture. After the process is completed, our professionals will thoroughly inspect your home or business to ensure it's once again safe and habitable. We'll also return all salvaged contents.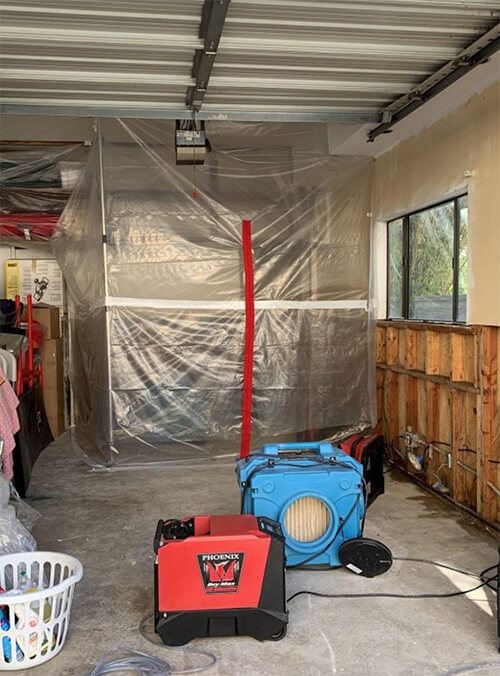 Request Water Damage Restoration Service Today
A locally owned and operated company, we clean and dry out any water-damaged property using the latest equipment. Then we replace drywall, insulation, and other building materials so there's no remaining water damage. We guarantee your satisfaction and offer the most competitive pricing in Southern California. In addition, we're approved to work with all insurance companies, which further reduces the stress.
We are open 24/7. For water damage restoration in your Glendale, CA, home or business, call (323) 402-6156 or use our online contact form.
5-STAR RATED & FAMILY OWNED


WE'RE THERE IN 60 MINS. OR LESS

WE ARE APPROVED TO WORK WITH ALL INSURANCE COMPANIES

MOST COMPETITIVE PRICING IN SOUTHERN CALIFORNIA
SATISFACTION GUARANTEED POINT BLANK PERIOD

Most companies say they are available 24/7 but we REALLY are. Don't believe us? Give us a call now! You'll speak to a real Restoration Expert or Ops Manager 24/7/365

WE'RE THERE IN 60 MINS. OR LESS
We'll be there to solve your problems in
60 minutes or less for emergency services.
5-star service that's faster than our competition.

MOST COMPETITIVE PRICING IN SOUTHERN CALIFORNIA
We won't beaten on price. We'll match the price or beat the competition.
WE ARE APPROVED TO WORK WITH ALL INSURANCE COMPANIES
We work FOR you but WITH your insurance company. We believe in serving our clients at the highest level and that starts with having your best interest in mind.

SATISFACTION GUARANTEED POINT BLANK PERIOD
If you call us with a problem and for some reason we can't solve it, or you just aren't happy with any of our services, we'll make things right!
WE ARE APPROVED TO WORK WITH ALL INSURANCE COMPANIES
We work FOR you but WITH your insurance company. We believe in serving our clients at the highest level and that starts with having your best interest in mind.

SATISFACTION GUARANTEED POINT BLANK PERIOD
If you call us with a problem and for some reason we can't solve it, or you just aren't happy with any of our services, we'll make things right!
MAY SELGA

I used this company when I had water damage due to a burst pipe.
They were on time and courteous. They are responsive to any means of communication. They are also very accommodating to my schedule.The work done was clean. Nick, the crew, and also office staff were very helpful in resolving my issue. Thank you.
DEBBIE S.

Javier, Erwin, Isaac, Kirk, and Angie – ALL top notch. Excellent company to work with. Professional, on time, and provided valuable info to help us navigate our insurance company. Highly recommend.
DIANA S.

We had a flood in one of our bathrooms in the middle of the night.
I called several plumbers and RESTORERZ was the only one who could come out. They came and discussed with me the situation. Once we knew what the problem was they got to work. We had a simple snag and Angela from the office was there all the time to reassure us everything would be ok. The whole team was professional. Thank you.
ROBERT M.

After reading a few reviews I couldn't help but to call the so called best….and wow was I impressed! The worker was not just a highly educated individual but honest and respectful. Came to check my home for potential mold job, and not just did he crawl under the home but he inspected every inch of it. We concluded and got the job done in less than 72 hours(having kids around makes the time very appreciated). Gladly will I recommend him and his company.